How To Keep Your Office Festive Through The Holiday Season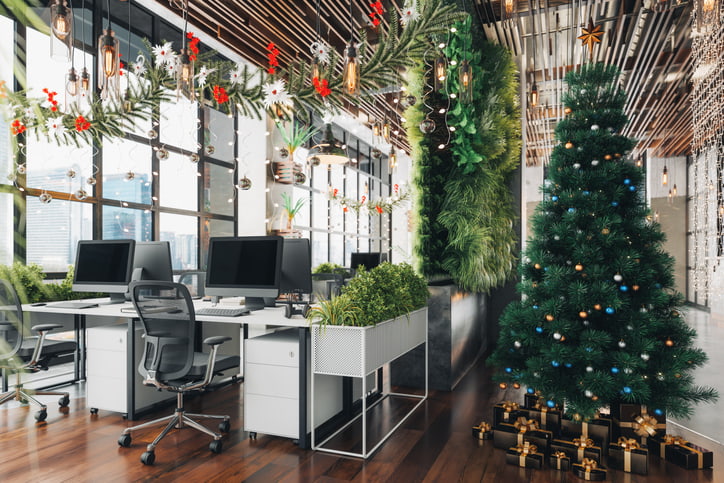 Create A Festive Environment
The first step in creating a festive environment is by setting the tone with decorations. Consider covering walls, desks, and other surfaces with cheerful and colorful garlands, paper snowflakes and ornaments. Be sure to keep safety in mind when decorating your workspace, too—avoid using real candles or open flames of any kind, as this can be hazardous.
If you're looking for more creative ideas to spruce up your office space during the holidays, consider decking out doorways with wreaths or hanging festive lights from ceilings or walls. Or, if you're feeling extra crafty this season, make use of recycled materials like old newspapers or magazines to create custom decorations like garlands and paper chains!
Add Some Music To Liven Up The Mood
Nothing sets the mood quite like music! Play some carols softly in the background to get everyone into a festive spirit. If you want to get really creative (and have access to some musical instruments), consider holding a mini concert or gathering around for sing-alongs during breaks! You could also host a lunchtime party where everyone brings their favorite holiday treats to share with one another. Having everyone participate will help build team spirit while still keeping it fun!
Take Time To Connect With Your Teammates
The holidays are all about connecting with one another—so why not take this opportunity to catch up with your teammates? Make sure everyone takes time out of their day to chat over coffee or lunch. Finding a moment out of our busy schedules can be difficult, but making small connections can do wonders for team morale!
Find Your Perfect NY Office Space, Today!
Find the perfect commercial space for your business at One Stop Properties! Our selection of properties in five boroughs and Long Island, NY, includes land, warehouse, and office spaces that can easily fit any need.
Don't hesitate to contact us so we can discuss how our listings may be right for you – just give us a call today at (718) 786-8400 or fill out one of our forms.